IWD member profile: Prof Cassandra Szoeke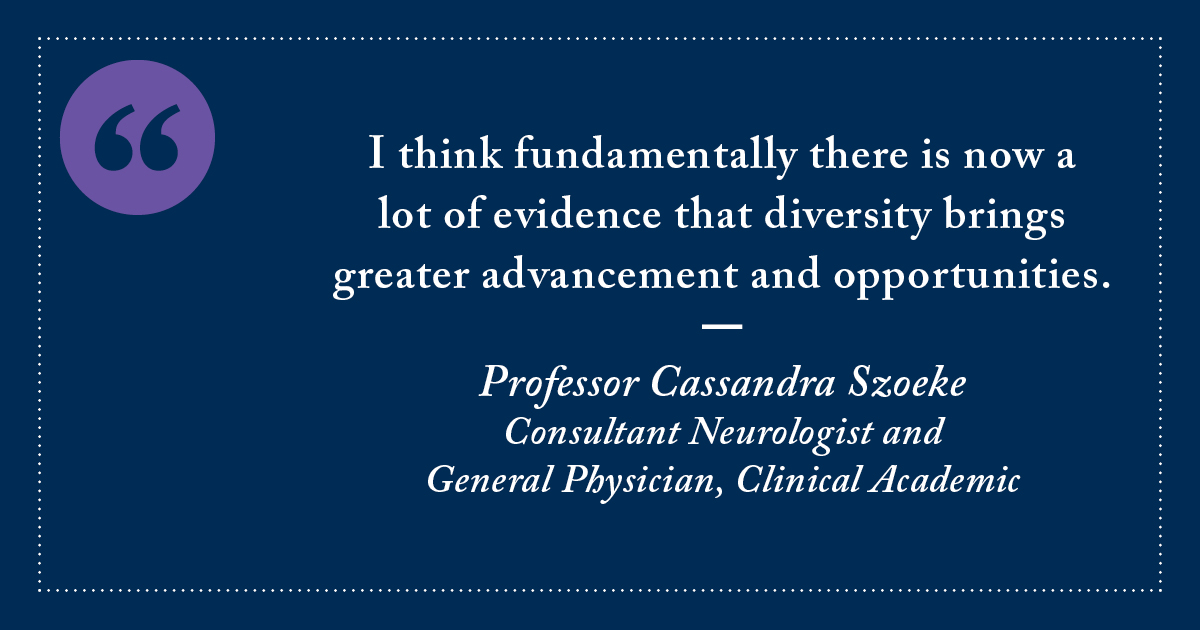 7 March 2022
We are celebrating the achievements of AMA Victoria's female members to mark International Women's Day on Monday 8 March. This year's theme is #BreakTheBias. Imagine a gender-equal world. A world free of bias, stereotypes and discrimination. A world that's diverse, equitable, and inclusive. A world where difference is valued and celebrated. Together we can forge women's equality. Collectively we can all #BreakTheBias.
Celebrate women's achievement. Raise awareness against bias. Take action for equality.

Can you briefly summarise your role in medicine?
I am a Consultant Neurologist and General Physician Clinical Academic. I worked broadly across the public hospital system (RMH, ARMC, BHH, QEH, Sunshine Hospital, Burnie Hospital, Calvary Hospital) and also was appointed by the State Minister for Health on hospital and healthcare boards as non-executive director and during this time held roles as chair of both Quality and Safety and also Education, Research and Training board subcommittees. I now work in private practice and for the last several years have represented my colleagues as an AMA Victoria Councillor. I am appointed by the State Minister for Health to Medical Panels (Victoria). I am a full academic Professor at the University of Melbourne and am Director of the Healthy Ageing Program at the University in the Centre for Medical Research, supported by the Royal Australasian College of Physicians.

How have you maintained resilience and balance over past two years?
I don't know that I have done either of these well. With respect to resilience, I want to say that we are blessed in our profession, that what we strive for is a noble and altruistic goal which allows us to better tolerate personal suffering for the greater good. But I think also that the strongest resilience is built through surviving significant difficulties and after the countless challenges and situational crises which arise in medicine that many of us have faced when we lacked support and/or experience, the recent challenges seem comparatively workable.
Balance is harder in that I think this concept suggests that work is the counterpoint of joy and that therefore there needs to be a balance. For me my work is my joy. I think that in medicine we are also extremely privileged that our day-to-day work has enormous variety and no two days of my working life have been the same since I first graduated. This is because no two people are the same, but also there are so many ways a doctor can contribute to health and I balance my time between administration, government advisory roles, research, teaching and patient care.

What do you think needs to be done to help achieve gender equality in medicine?
This is a really difficult question. It's not so much to do with gender as it is to do with areas of medicine where cartels remain which foster exclusion. I think fundamentally there is now a lot of evidence that diversity brings greater advancement and opportunities, smart people are able to recognise this advantage over any anxiety over the less well known/understood.

What are you most proud of about your medical career?
My greatest pride has been establishing and maintaining our Healthy Ageing Program – from birth to beyond. That was quite a challenge in a time of my training where specialisation and subspecialisation was the norm. I myself completed not only my neurology training but also three years of epilepsy fellowship training. Despite the attrition of general physicians, I was lucky enough to be mentored during my training by a brilliant general physician, Dr Peter Greenberg and our Healthy Ageing Program established in 2008 is inclusive of all physician specialty areas. The collaborations across various subspecialities within the college has made for an incredibly enriching clinical research environment nationally and internationally, not only for me but for the many clinicians and early career researchers who train with us.

What do you value most as an AMA member?
I have belonged to the AMA since I was an intern. It is crucial, I think, to have a doctor's voice represented in our community. There is so much we have to give to our community. Knowledge not just on health, which has relevance in almost every sector, but also our training in strategic planning, devising protocols, connecting with people and our uncanny abilities to read copious amounts of materials both synthesising and retaining this knowledge. These skills are translatable and much needed in the policy space. I value getting involved.

This article is an excerpt from a series celebrating AMA Victoria's female members for International Women's Day. The latest VICDOC features medical leaders Dr Alice Mizrahi, Prof Cassandra Szoeke, Dr Liliana Sousa Nanji, Dr Nardine Elzahaby and Dr Pearly Khaw as they share career achievements, the health issues they are passionate about, and views on securing diversity, equality and inclusivity in medicine. Read excerpts from each feature here. Read the full story in VICDOC.
Tags