The Thriving Doctor: towards harmony, productivity, longevity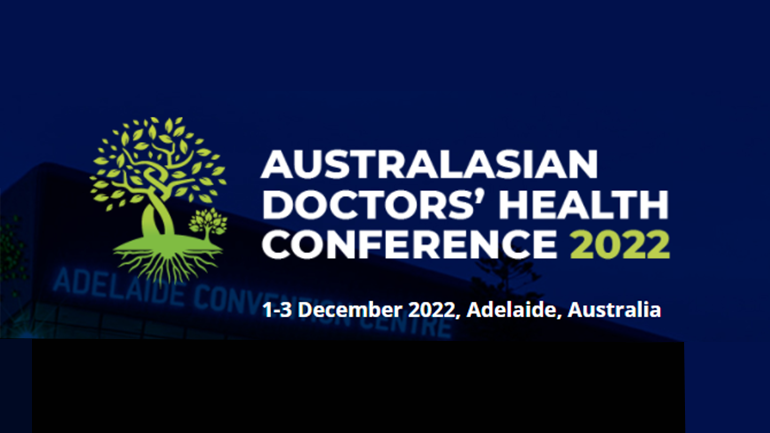 10 August 2022
Australasian Doctors' Health Conference 2022 - 1st to 3rd December
Calling all doctors, medical students, health leaders and the many people across Australasia working to create a healthy medical profession. This conference is your opportunity to explore with others the ways in which we can all thrive, as individuals in our personal and professional lives, in our workplaces and the wider health system, with a focus on new frontiers in research and best practice.
This international conference has a firm focus on sharing positive ideas and solutions that enhance the health of doctors and students. This is very timely and so important to the profession itself, our health system and our patients in the wider urban and rural community.
Conference registration offers a hybrid conference model, which will consist of a full in-person conference program and exhibition at the Adelaide Convention Centre, coupled with streaming of the program from the two plenary rooms to enable both in person and remote delegates to attend these sessions. The hybrid session enables us to welcome a larger community who may not be able to attend in person due to travel, health, or other restrictions. Day registration and discounts for medical students and early bird discounts are available until midnight on 11th September.
The program includes pre-conference workshops on Thursday 1st December such as a writer's workshop, creative doctors (art, music, wine making and comedy), introduction to medical research and burnout- words, meanings actions. The main program includes nearly 50 presentations, with renown international speakers such as Dr Tait Shanafelt MD who is the Centre Director and Chief Wellness Officer at Stanford Medicine and Dr Helen Garra Medical Director from the NHS Practitioner Health. There are also a range of impressive Australian speakers as well as submitted workshops, oral presentations and posters which will include research and initiatives related to the conference theme.
The trees in the logo for the conference are symbolic of those doctors who are able to draw nourishment from their personal roots and professional environments, survive, thrive and extend themselves to reach their potential, whilst protecting and nurturing the next generation of doctors to do the same.
For more information and to register visit the Australasian Doctors' Health Conference 2022.