The value of laughter in Medicine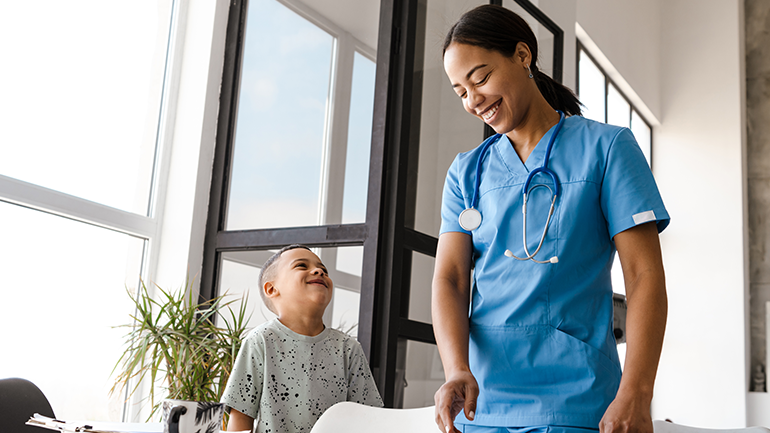 25 January 2022
"The human race has one really effective weapon, and that is laughter." – Mark Twain
Laughter is a potent stress reliever and has both short-term and long-term benefits for our well-being. Laughter is also a valuable way to lift the spirits of the team and strengthen the bond between team members. The COVID-19 pandemic has been very stressful, put enormous pressure on healthcare and caused exhaustion and burnout in healthcare workers. Being able to laugh and enjoy humour is a useful tool which can help us get through these challenging times.
The proviso is that humour and laughter should be used at the right time and in the proper context.

The benefits of laughter
The short-term benefits of laughter include:
Laughter increases oxygen intake and blood circulation which is important to keep our heart and muscles energised.
Laughter releases endorphins which lift mood and soothe pain.
Laughter reduces muscle tension across the body and so helps us to feel more relaxed physically.
Laughing together helps us to feel closer to those we are laughing with and can ease tension in a difficult situation, as well as boost the spirits of all involved. Note that this laughter must be all inclusive and respectful, not at the expense of an individual (unless they initiate it).
The longer-term benefits of laughter include:
Regular laughter helps to increase lung capacity by promoting deep breathing.
Regular laughing can improve our immune response by reducing cortisol and increasing oxygen intake and endorphin release.
Regular laughter can improve our mood and assist us manage depression.
Personal satisfaction can be improved by regular laughter as laughter can make it easier to cope with difficult situations and help us connect with other people.
A team who laughs together regularly will have increased trust and be better able to work together even during difficult times.

Bringing more laughter into our lives
Each of us has an individual sense of humour which is influenced by factors such as culture and upbringing, personality and cognition. However, a sense of humour can be developed and refined. In the same way it has been shown that simulating laughter will produce similar physiological benefits to natural laughter.
If you want to increase your opportunity to laugh, try some of the following:
Watch or listen to something funny. A few videos which might appeal are listed below. We would love to hear your suggestions of videos, podcasts, television series, movies or stand-up comedians or musicians which make you laugh. When you are having a bad day, a few minutes spent with a funny cat video or your favourite comedian while you have a break can provide the lift you need to keep going.
Share a joke. Whether it's a groan-worthy Dad joke or a series of bad puns, share a few jokes with colleagues, friends and family. Ask others to share their jokes too.
Exchange funny memes or jokes via your favourite social media platform or with a friend via messaging.
Hang out with a pet or a child. Our furry, feathered and scaly pals are great at delivering laughs and children laugh naturally and without inhibition. Chase your pet as they scamper around the house or play with their favourite toy. Young children enjoy funny faces, silly jokes, slapstick comedy and bad dancing (ever wondered why many paediatricians are so relaxed?). Laugh along with the child and you will feel the benefits.
Find a way to laugh about your own situations to help your stress about a frustrating day fade away. Instead of ruminating about a stressful situation or minor mistake, try creating a new habit of joking about it. Finding humour in life can help you see things in a different light and reduce your stress about the circumstance.
Try laughter yoga. In laughter yoga, people practice laughter as a group. Laughter is forced at first, but it can soon turn into spontaneous laughter. By the way, there is actually no yoga involved.

Dark humour and boundaries
It is important to know what isn't funny. Don't laugh at the expense of others. Use your best judgment to discern a good joke from a bad or hurtful one. Some forms of humour aren't appropriate, such as jokes which are racist or sexist or targeted at individuals.
Dark or twisted humour is an acquired taste, not everyone appreciates the taboo humour others find in disturbing subject matter. But, for people who experience stressful jobs such as healthcare workers, dark humour often serves as an important protective mechanism. For example, dark humour can be used as a way of coping with chronic job stress. In healthcare, dark humour can relate to specific medical routines, difficult cases or even death, but it should not be aggressive or hurtful to others. Consider your audience when using dark humour.
Dark humour has been found to enhance resilience during some of the most horrible events in human history. For example, during the Holocaust, victims reported using humour in ghettos, concentration, and death camps to better cope with extreme trauma and adversity. During the Holocaust, laughter was a form of rebellion against reality. Humour was the weapon of those whose lives were utterly in the hands of the executioners, those who were powerless to rebel or resist in any other way.

Dad jokes
How many psychiatrists does it take to change a lightbulb? Just one, but the lightbulb must really want to change
Did you hear about the restaurant on the moon? Great food, no atmosphere!
I ordered a chicken and an egg from Amazon. I'll let you know...
I used to play piano by ear. Now I use my hands.
I like telling Dad jokes. Sometimes he laughs!
I could tell a joke about pizza, but it's a little cheesy.

Comedy videos you may enjoy
Resources and References:
Kay Dunkley
AMA Victoria Coordinator of Doctor Wellbeing

Tags